Today I made an exciting discovery! I found an entire box filled with
Antique
ephemera
that I had completely forgotten about... I guess tidying up every once in awhile does have its rewards!! Who knew?!
Anyway, among those pieces I found this super sweet
graphic frame
, from
1908.
I love the simplicity of the
scrolls and swirls
. I think it would be lovely for
invitations
,
wedding
or otherwise, or anything else that you might fancy putting a frame around.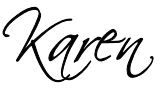 Share