Last night I finally got to watch the movie
Young Queen Victoria!
If you haven't seen it yet, I recommend it, it was very well done. The film inspired me to dig through and see if I had any Queen Victoria images and I was lucky enough to find this one in an
1850s book
. As seen above there is a divinely
ornate round frame
with "
Her Gracious Majesty
", as the book calls her, in the center, complete with
crown
and all. I've also included a
second version
with out the queen in case you want to use it for something else. Feel
free to download
them both to use in your craft projects! This is quite a
large file
so,
multiple clicks
may be needed
to get the largest size.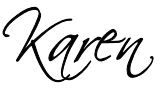 Share