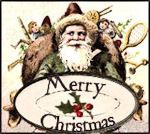 Here's a
free little doodad for your blog sidebar
! This is a fun little
Christmas
countdown
button
that I made to share. I do have
an important bit of info
to share about this though so,
please read!
Just like with the other holiday count down buttons that I have done in the past, this
button gets changed
manually by me each day
, on my end. (
It will change automatically for you
so, don't worry you don't have to do a thing once it's on your blog!)
I replace it
with the new date
when I get up
each morning, which means
some days it will change later than others
(you know like on the weekends,
when I'm sleeping in!
). So if that doesn't bother you, than this is the button for you. If that would drive you crazy, then you might want to skip it!
In other news, I've added a new
free
Christmas background
to my other blog at
Backgroundfairy.com
so pop over and check it out!
XXXOOO